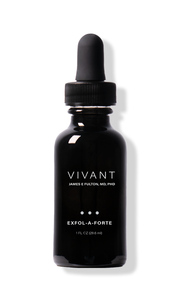 The most intensive of Vivant's patented Vitamin A therapy treatments is an intensely transformative AHA cocktail formulated for superior exfoliating effect with less irritation.

Skin Type: Recommended for Oily, Acne-prone or resistant skin already acclimated to Vitamin A therapies.

Ideal for: Severe acne, sun damage, thicker skin on the back, chest, arms and backs of hands.