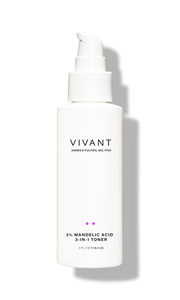 A multi-tasking essential that refines surface texture and primes skin for more efficient, faster absorption of corrector serums leading to accelerated results. Clears surface buildup, promotes exfoliation, and goes deep into pores to remove dirt, oil and make-up. Mandelic Acid targets Acne, Aging and Hyperpigmentation making it ideal for sensitive darker skin tones.

Skin Type: Recommended for Dry and Combination skin.

Ideal for: Skin new to advanced skin care regimens. Excellent for skin of all hues and skin too sensitive for Benzoyl Peroxide and glycolics.