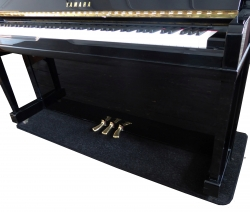 One common concern when purchasing an acoustic piano for the modern home is how the instrument will be affecting by changes in heat - causing the piano to go out of tune more quickly.
These carpet mats are specially designed to prevent the heat produced from underfloor heating from rising, protecting your piano.
They are perfect for apartments, or in louder rooms, as they also help to reduce noise levels.
Available in either black or beige colours, and in two standard sizes; 151cm by 34cm, and 151cm by 58cm. Bespoke options can be made available upon request.